TYRJAMBCBT HELP AND SUPPORT
Welcome to TryjambCBT Community
Follow the steps below to Join thousands of your colleagues, who use TryjambCBT as a preparatory ground for their next UTME. You are the next lucky candidate!
1. Log on to www.tryjambcbt.com.
2. Navigate to the Register button and click to register.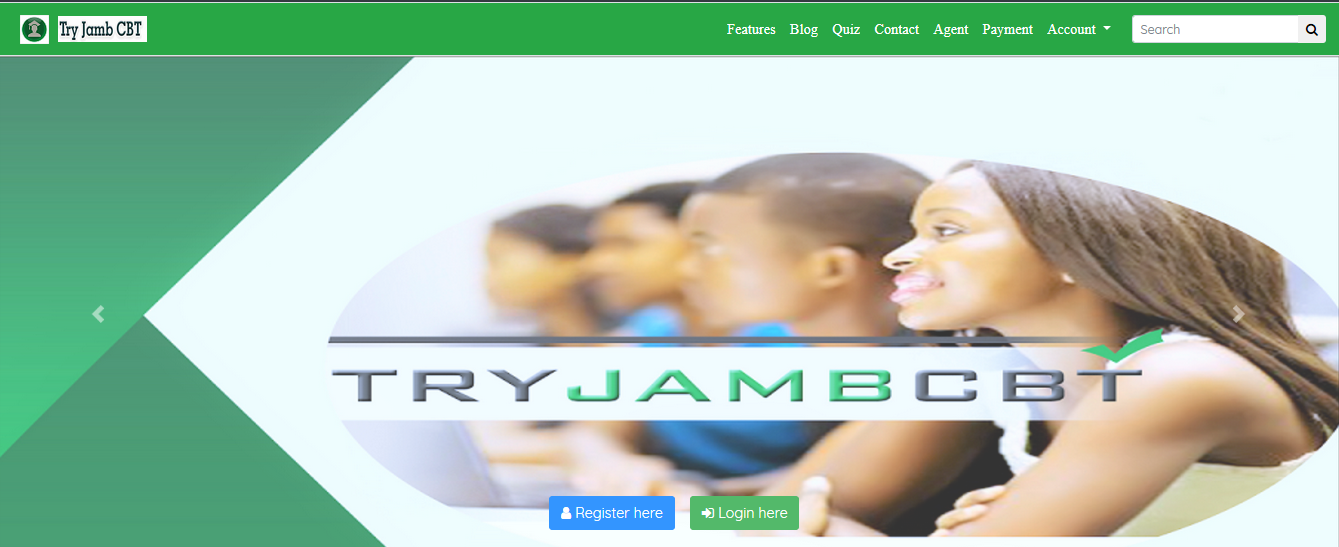 3. On the next page type all the required information, such as your name, email, phone no and your exams subject combination, then click
Isn't that Simple! Welcome to the Community of Potential Undergraduates.
What you stand to benefit from as a Registered user of TryjambCBT includes the followings:
1. Take Practice Test
2. Easy and Affordable Subscription
3. Study Center
4. Bi-weekly Quiz Competition
5. Make Money via your account
1. Login to your TryjambCBT account on www.tryjambcbt.com with your unique registration number.
2. On your dashboard, click on the button
3. Navigate through the available questions based on your subject combinations. Do well to answer all the questions correctly with all seriousness, as this may determine how prepared you are for the Exams
4. At the end of the Test, your results will be available which can be printed or downloaded
NOTE: In case your outcome result is not good to your expectation, never relent! There is always an opportunity to improve yourself by taking more Practice Test. This is one of the major reasons TRYJAMBCBT platform is designed to know your stand, prepare yourself very well, master all the Exams tricks, and as well get you improved by all available means
YOUR SUCCESS IS OUR CORE PRIORITY!
Check our Study Center for more tips on how to successfully attempt all your questions within the range of the allocated time.
Online Payment
Steps:
1. Go to www.tryjambcbt.com, login to your account with your unique registration code and your surname.
2. On your Dashboard click and then choose any of the subscription plans you want. You will see a pop up showing the amount you clicked to pay.
3. Next page, supply the 12 digit number on your ATM Mastercard / Verve card, the card expiry date, and 3 digit CVV number in each box provided and then click PAY.
4. On the next page enter correctly the OTP sent to your phone line or email and then click to confirm your Payment.
Once the payment is confirmed, you receive a notification showing Payment successful otherwise payment invalid notification when not confirmed
Your account is now active for the valid date depending on the plan you chose. Start enjoying your studies!
NOTE: Don't make your payment using OperaMini browser. Compatible browsers include Chrome, Firefox.
Bank Payment
Steps:
Make payment to this Account :
Acct no: 0212099649
Bank name: GT Bank
Acct name: O'Bounce Technologies
After the payment, send your tryjambCBT Registration No, Name on the teller used, and Amount to this phone no 07058850754 or send email to [email protected] with the above required information in other to verify your payment. A notification message will be sent to you once your payment has been verified within 5 minutes.
Voucher Purchase
Steps:
1. Make a purchase of a Voucher card from any of our agents. This contain 15 digit number.
2. Login to your Account on www.tryjambcbt.com.
3. Click on navigate to Voucher, and enter correctly the 15 digit number on the Voucher.
4. Then click on
TryjambCBT Study Center is a platform designed to help our registered students with some exam tips, special tutorials, and solutions to some difficult to understand topics.
The bi-weekly quiz is a quiz competition organized by TryjambCBT Team in order to test you on the Test practices and studies you have taken so far both the platform and at home. It is organized to check how prepared you are. This comes every two-two weeks with prizes for the emerging winners
How it works:
1. To participate, register on www.tryjambcbt.com as a UTME student or login to your account if already registered.
2. Make sure you have an active Account with subscription to access the page.
3. On your Account dashboard, click on the button.
4. Answer all the questions on the page correctly and be the lucky winner for that week.
All emerged winners will be contacted with their prizes, and as well published on our blog as the faces of the week.
NOTE: Successful winners will be selected based on the total numbers of questions answered correctly, and the fastest individual to submit. So always be available at the stipulated time for the Quiz.
One of the ways we have decided to help you is by generating income via your registered account. It so simple and easy.
How it works:
1. Register on www.tryjambcbt.com, and login to your account.
2. On your Account dashboard, copy your unique referral link. Get as many as possible Jamb students, talk to them about TryjambCBT and its amazing features, convince them to register on the platform through your referral link or give them the last five letters on the link which is your referral code, which he/she will type in the referral box when register, and tell them to subscribe to enjoy the full benefits of the platform. In doing this, you have help someone to be a successful candidate in the next UTME, and as well make money for yourself once he/she subscribed.
3. Once your referred user(s) register and subscribe, you will receive 10% bonus of his subscription which is available to withdraw or use to subscribe as well.
NOTE: To withdraw your earned money, you must have at least N500 before you can make a request for withdrawal.
Making of money is not only applicable to Jamb students alone. As an individual, register, subscribe and refer students to make money too.
Who are the TryjambCBT Agents:
They are our outlets accredited retailers who help us in the sales of our products to our users such as the TryjambCBT Voucher pin, and any other available TryjambCBT materials.
How can I become an Agent?
1. Logon to www.tryjambcbt.com/agents
2. Fill all the required information on the Agent Form Registration, and then click the button
3. Once your request is approved, you will be notified on the other necessary step to take.
NOTE: Do well to read and understand the neccessary requirements, terms and condition before you proceed with the Agent Form Registration
1. Logon to www.tryjambcbt.com/app
2. Click on the Retrieve it here link below the Login form
3. On the Registration Number Lookup page, type the valid phone number submitted during your Registration, and then click the
1. Login to your account
2. In your account dashboard, click the button
3. On the Testimony page, fill all the required information, and then click on the button
4. Copy your registration and save it in order to forget again.
That's simple and nice!